Robert Peterson
Establishing an online community for special education in Bulgaria
Abstract
The community of practice (CoP) concept, first published in 1991 to describe learning in apprenticeship environments, has evolved considerably. It has since been used to describe social learning in modern businesses and organizations. The concept has also been argued to apply to certain online communities. In this context, the term virtual CoP has been applied. The purpose of this study was to apply existing design principles for the creation of successful CoPs to the development of a new online community with the aim of exploring the practice of special education in Bulgaria andevaluating the extent and ways in which the online community supports the practice.

Research and development was framed by the design-based research approach. The study was organized into three phases, needs assessment, formative evaluation, and effectiveness evaluation. Qualitative data were collected from personal interviews and discussions held on the online community website, and from website usage logs. Data were also collected from web-based questionnaires and surveys and expert consultation and usability evaluation sessions.

Findings indicate that the main issues affecting the practice of special education in Bulgaria at this time relate to the integration of special needs and Roma minority students into mainstream schools. Findings also indicate that the online community, called Special Education Bulgaria (SEB) was found to be an effective online community but only partially effective as a CoP. It is argued that future iterations of SEB be designed to facilitate an innovative knowledge community on the topic of integration.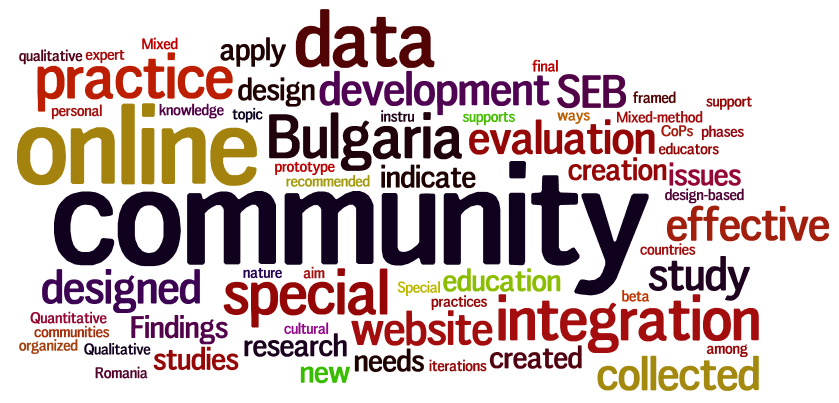 Publications

Peterson, R., Herrington, J., Konza D., Tzvetkova-Arsova, M., & Stefanov, K. (2007, October). Investigating the role of eportfolios and online courses in a community of practice: Assisting Bulgarian special educators with lifelong competency development. Paper presented at the ePortfolio 2007, Maastricht, the Netherlands, 17-19 October 2007. (Winner of the Best Academic Paper Award).
Peterson, R., Herrington, J., Konza, D., Tzvetkova-Arsova, M., Stefanov, K. (2008). Assisting Bulgarian special educators with competency development online. Campus-Wide Information Systems: The International Journal of Information and Learning Technology, 25(4), 197-208.
Peterson, R., Verenikina, I., & Herrington, J. (2008). Standards for educational, edutainment, and developmentally beneficial computer games. In J. Luca & E.R. Weippl (Eds.), Proceedings of EdMedia 2008: World Conference on Educational Multimedia, Hypermedia & Telecommunications (pp. 4143-4151). Chesapeake, VA: AACE
Peterson, R. & Herrington, J. (2005). The state of the art of design-based research. In Proceedings of World Conference on E-Learning in Corporate, Government, Healthcare, and Higher Education 2005 (pp. 2302-2307). Norfolk, VA: AACE.